Bringing families back together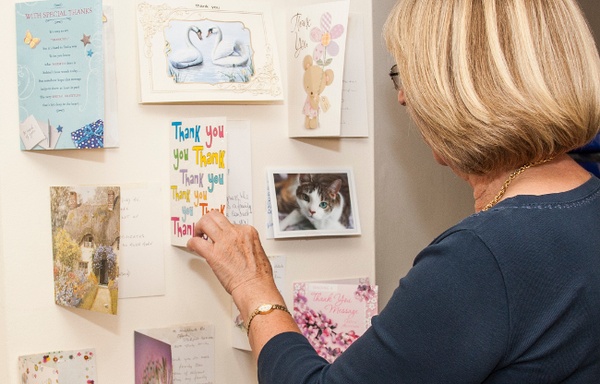 Most people are aware that the job of a probate researcher involves finding the living relatives of someone who has died without a will and ensuring they get their rightful inheritance. But for staff at Anglia Research there's another, less publicised, aspect to their work – and it has nothing to do with heirs and the money they may receive. In this interview, Sue Jackson and Hannah Cutts explain what makes their work so rewarding.
---
Here's an extract from a letter that Sue Jackson received recently:
You have made an old man happy to know that there are members of his family still alive that I had lost contact with over fifty years ago. Thank you. Thank you.
While you can put a value on an estate or an inheritance, it's impossible to put a value on something like this.
Families get broken for so many reasons. Obviously quarrels and divorce can cause rifts that seem irreparable. Sue points to one instance where, as a result of a divorce when the children were very small, a family were unaware that their mother was living only a few streets away.
"They had probably passed her in town without even knowing who she was," she says.
Step back a generation or two, and the situation becomes even more complicated.
Stricter social codes meant illegitimacy carried enormous stigma; emigration in a world without Skype, emails or cheap phone calls meant that a man who moved to Canada might write regularly to his siblings, but on his death that fragile transatlantic link between two sets of cousins would all too frequently snap.
When branches of a family drift out of touch, there comes a time when it's almost impossible to repair the breach, simply because the specialist knowledge and resources needed to find lost kin are beyond the scope of most people.
Of course, this is where the work of a probate genealogist comes in.
Long lost family
When a potential beneficiary signs up with Anglia Research, their case manager stays in regular contact with them, keeping them informed about the progress of the case. However, it's also part of a case manager's role to gather information.
"When we talk to entitled relatives, we explain why we are contacting them and confirm that it is the correct family," says Sue.
"Then we ask about other family members we are trying to trace. Usually we are given addresses, last known residence, marriages…. If you are lucky you may even get the family member who is the 'fount of all knowledge' regarding their family history."
From a legal point of view, it's essential to listen to people's stories for clues to other lost relatives. The laws of intestacy are very clear: all entitled kin must be included when an estate is distributed. But asking questions and listening to the answers is also important because finding beneficiaries means finding family.
Hannah Cutts gives an example where the deceased's mother had two sisters, one of whom had an illegitimate son.
"This only came to light through talking to the children of the other sister, both now in their 80s," she explains.
"The illegitimate son married and had a daughter, who sadly passed away leaving a daughter of her own. After some helpful telephone calls, I managed to track her down."
This is the letter Hannah received as a result:
I have spoken to my aunt this evening for the first time in 19 years. I am so happy to be in touch with her again. We are going to plan a date in which me, my husband and our daughter can visit her… I cannot thank you enough for your work and putting me in touch with my family again.
Another beneficiary sent her a bouquet of flowers and a letter that starts:
How can a girl not have a great weekend having discovered this morning I'm a great auntie. It's time to make up all those lost years. I've been shopping for three-year-olds – picture books and one with snow as my little niece won't know what that is…
Confidentiality is very important to staff at Anglia Research, and case managers never pass someone's details to another relative unless they specifically request it. But when people ask for help in making contact, the results are heartwarming.
Finding living relatives
Reuniting a scattered family can make such a difference to people's lives – particularly to the elderly who have so many memories to share and, sometimes, no-one to share them with.
One client recently wrote to Sue:
I am in receipt of your letter informing me that my cousin wanted to make contact with me and you provided her name, address and phone number. I can't tell you how happy I was to receive this information as she and her brothers and sisters are the only members of my family that are still living.
When people talk about heir hunting, they tend to think about money – full stop. Nevertheless, bringing families back together is an important part of a probate researcher's job, and sometimes money and family serendipitously come together.
For example, when one lost heir re-established contact with her Australian cousins, she told her case manager that her inheritance would be: "the down payment on a flight to Oz. Thank you so much."
2022 Anglia Research Services All Rights Served
Anglia Research and Anglia Research Services are trading names of Anglia Research Services Limited, a company registered in England and Wales: no. 05405509
Marketing by Unity Online