Great Anglo-American Alliances #2: Anglia Research offers US customers a free review of unsolved cases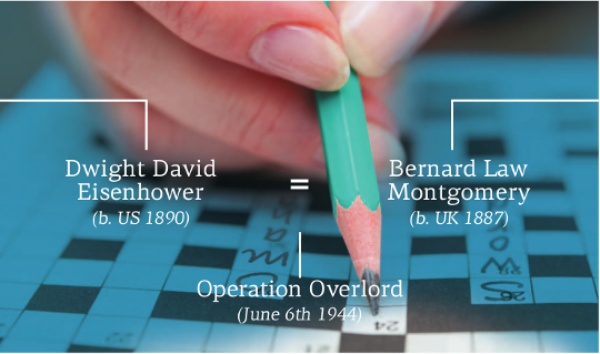 The D-Day landings were a triumph of Anglo-American co-operation, the largest seaborne invasion in history. Success hung on meticulous planning, detailed intelligence and, above all, total secrecy. All the key aspects of the operation were referred to by codewords.
---
In the weeks leading up to D-Day Leonard Dawe, a British crossword compiler, used five of the most important codewords as answers to his puzzles in the British Daily Telegraph. When 'Mulberry', the final answer, appeared Dawe was arrested by MI5. They interrogated him for three days.
Dawe was not a spy. He knew nothing. The codewords' appearance in the newspaper was pure coincidence. MI5 acknowledged Dawe's innocence and released him. D-Day's secrecy was never compromised. The 'obvious' answer was the wrong answer.
At Anglia Research we know that the easy answer is not automatically the right answer. It's why we dig deeper, search harder and ask more questions. We employ more accredited genealogists* than any other UK company, with access to unique databases and a proven track record of integrity, uncompromising professionalism and success.
We set up Forensic Genealogy USA to enhance our partnerships with US probate researchers, lawyers, attorneys and investigators. Our aim is to build long-term, mutually beneficial relationships and place our vast experience of UK/Irish archives and records at your service.
If you need to find missing beneficiaries in the UK and Ireland, we offer the gold standard: our people.
For more information on partnerships and co-operative ventures, and for a free review of your unsolved cases, contact us on 917-336-6309 before 16.00 EST, 13.00 PST or email info@forensic-genealogy-usa.com.
---
---
*members of AGRA, ASGRA and AGI. In addition, most of our case managers hold paralegal practising certificates and are regulated by the PPR, giving you the reassurance of an independent complaints procedure and compensation scheme. For more details, please see our accreditation page.
Forensic Genealogy USA is a division of Anglia Research Services Ltd.
2022 Anglia Research Services All Rights Served
Anglia Research and Anglia Research Services are trading names of Anglia Research Services Limited, a company registered in England and Wales: no. 05405509
Marketing by Unity Online