Hannah fixes error by council's heir hunters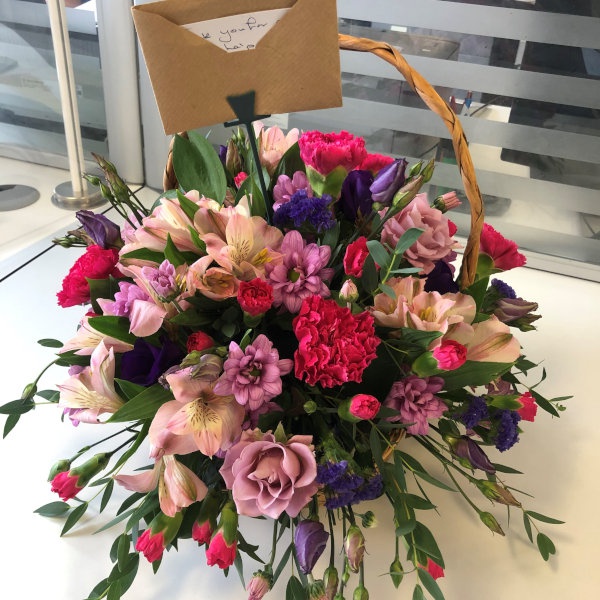 In this article we examine a case in which a council passed an intestacy to a firm of heir hunters who incorrectly traced as a beneficiary someone not even related to the deceased. It illustrates how councils can misunderstand their obligations in dealing with deaths where there is no known next of kin and the ways in which exclusive deals between councils and heir hunters can lead to mistakes.
---
It's always great to feel that one's hard work is appreciated. Case manager Hannah Horton was delighted to receive a beautiful bouquet recently from a grateful client whose case she had solved. However this story does not reflect so well on the heir hunting firm or the local authority who passed the case to them!
This was a complicated case in which a resident in a London local authority died without a will. The council passed her details to an heir hunting firm with whom they had an exclusive contract. This firm then incorrectly traced as beneficiaries people who were not even related to the deceased.
Hannah picked up the case and managed to identify the correct heirs, the niece and nephew of the lady who had died, and ensured that they received their inheritances. However this was only at the end of an extensive legal struggle.
Kathleen McPhail died in 2013 without leaving a will and without any known relatives. In order to track down her next of kin, her local au​thority, the​ London Borough of Tower Hamlets​, contacted an heir hunting firm. This was done instead of publishing them through the Government's Bona Vacantia list of unclaimed estates.
The heir hunter found someone who they claimed was Kathleen's cousin once removed. This was accepted by the local authority. The firm of solicitors recommended by the heir hunter then obtained a grant of letters of administration. The supposed cousin received the payout and the heir hunting firm was paid its fee. Their research, however, proved to be flawed.
Anglia Research only became aware of the case when they were searching through legal notices in the London Gazette relating to cases where people had died without wills. The case was passed to case manager Hannah Horton.
She searched the national probate indexes online and was able to locate the correct beneficiaries. Kathleen's mother, Ellen Lawrie, died in 1971. In her will she names her daughter Kathleen, her son John Alfred Lawrie (both of who are now dead) and John's two children, Christine and John Michael. Kathleen Lawrie was born in December1920 and married Albert Timothy McPhail in 1952.
Christine, who was now known under her married name of Burns, was quickly located. However we needed her help to get in touch with her brother, who had emigrated to Australia and could not be as easily traced.
Although John Alfred had died and Kathleen had no children, her niece and nephew were still alive, meaning that the 'cousin' was not entitled to anything. Even had there been no closer surviving relatives, the heir hunters had 'found' a completely unrelated family​. The claim should never have been accepted.
The family surname 'Lawrie' was spelt interchangeably as 'Laurie'. Possibly the heir hunters didn't go through all of the different variations of the spelling. Clearly they had also not thought to search for the wills of other family members.
Kathleen McPhail's niece, now Christine Burn, was delighted to hear of her legacy. She remembered her aunt well from her childhood. However the story was far from over and the case dragged on until 2020. During her long wait for the council to release her money, she was quoted as saying, "I don't understand why it's taking so long to sort it out. They've acknowledged their errors, but then dragged their heels over repayment. We just want this to be over."
The council finally received the required letters of administration from the courts. The estate was eventually released to Christine and her brother John Michael Laurie. A grateful Christine sent a bouquet and note of thanks to the dedicated researcher who had worked so hard to unravel the mystery.
Hannah, who has a first class history degree from Oxford Brookes University said of the case:
It was really rewarding to locate the correct beneficiaries to this estate. Not only were they grateful for the money they received, but they were pleased that we could help piece together their family history too. It was also satisfying to support our clients whilst ensuring the local authority rectified their initial distribution error.

The main thing that I would take away from this case is that because there was no competition, simple mistakes weren't picked up by other firms.
Anglia Research's director Philip Turvey commented:
Ms Burn's case is sadly common. We come across far too many cases where relatives are being denied their rightful inheritance or are being ripped off with excessive fees.

This scandal needs to end and the Government should act to ensure that all councils follow the correct processes.
As we have repeatedly stressed throughout our Fairness Campaign the correct procedure would have been to advertise the case through Bona Vacantia. This would have meant that probate genealogists from a number of firms could have worked independently to identify the correct heirs.
Councils are obliged to report intestate estates of a certain value, with no next of kin, to the Treasury Solicitor, who is based within the Government's Legal Department. However it only accepts cases of estates identified as 'ownerless'. This was not thought to be the case for Kathleen McPhail.
There is no requirement for the local authority to locate or look for next of kin before notifying BVD of a relevant death. Referrals cannot be made to the Bona Vacantia Division if the net estate is under £500. If the estate is over £500, a referral to the BVD should always be made, unless there is evidence that there are likely to be living relatives.
Some firms of heir hunters have tried to convince councils and others that they must look for next of kin before a referral is made, which is incorrect. It leaves individual genealogy firms with a monopoly on cases and the opportunity to charge whatever they like, taking a commission of fifteen percent, or even more, of the value of the estate. These fees tend to be lower when heir hunters are in competition for unclaimed estates listed publicly online through Bona Vacantia.
We are happy that this particular case had a happy outcome and proud of the research skills of Hannah and her colleagues.We owe much of our success to the fact that we employ more accredited genealogists and legally qualified staff than any other UK probate research company. However it underlines the need for fairer practices and greater transparency in the field of probate genealogy.
2022 Anglia Research Services All Rights Served
Anglia Research and Anglia Research Services are trading names of Anglia Research Services Limited, a company registered in England and Wales: no. 05405509
Marketing by Unity Online