WWI Christmas Truce: A Christmas letter from the Western Front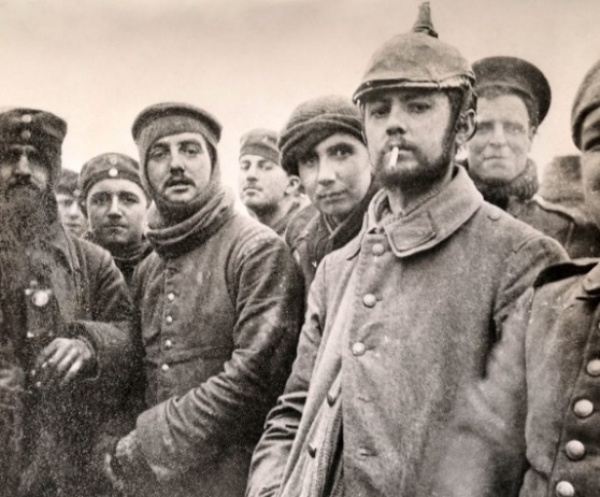 The photograph above is one of many iconic images of the Christmas truce of 1914. It shows two members of the London Rifle Brigade (left and centre) posing with a group of German soldiers. Here, former Anglia Researcher, Cherrill Theobald, presents a letter written by an eye-witness to the event – her great uncle Oswald Tilley, who was himself a member of the London Rifle Brigade.
---
My great uncle Oswald Tilley signed up at the beginning of the First World War, went to France and was killed in April 1915 at the age of 19. He is buried in a Commonwealth War Graves cemetery near Boulogne.
During the short time he was in the London Rifle Brigade, Oswald sent many letters home, most of which I had no idea existed until they were referenced in a book I was reading for research.
They are now kept in the Imperial War Museum, where I was able to read them. After Oswald was killed, his sister Mabel gathered all his papers into a large scrapbook. It is an amazing collection of pencil written letters and drawings, letters of condolence to his parents, postcards, photographs and his metal tag. Here is part of his eyewitness account of what happened on Christmas Day 1914.
No. 3 Coy.
L.R.B.
BRITISH EXPEDITIONARY FORCE
27-12-14
My dear Mother Father,
Just a letter to let you know how I am going on and how we spent Christmas. At the beginning of the week we went to * for a hot bath and change of underclothing. It was a really delightful sensation getting into a huge bath of hot water and having a really good wash. We had very good clothing served out, amongst which there was a really fine woollen vest. Now I have got clothing to face all weathers.
On the 23rd we got orders that we were to join * regt. for 16 days so as to let each of their Coys. have 4 days rest. We are working the relief by spending the first day and night in the 1st reserve, the 2nd day in the 2nd reserve, the 3rd in the trenches and the 4th in the billets. We have just come back from the first 4 days – these turned out to be the most extraordinary days we have spent out here – if not in my life. The 1st day passed off in the usual manner but during Christmas Eve night the Germans started singing & showing lights & illuminated crosses in connection with their religious observances. Their singing was really very good and sounded very weird.
On Christmas morning as we had practically ceased firing at them, one of them started beckoning to us, so one of our Tommies went out in front of our trenches and met him half-way amidst cheering. They arranged for one of our officers to meet one of theirs and they arranged an unofficial armistice so that each side could bury the dead which lay between the trenches. After a bit, a few of our chaps went out to meet theirs until literally hundreds of each side were out in 'No man's land' shaking hands and exchanging cigarettes, chocolate and tobacco etc.
Just you think that while you were eating your turkey etc, I was out talking and shaking hands with the very men I had been trying to kill a few hours before!! It was astounding! Our fellows brought in five dead Germans to them and we had a joint burial service between the trenches. The German officer thanked 'you English friends' for bringing them across. The men opposite us are Saxons and not those who have committed all the atrocities we have heard of. Yesterday when we were in the fire trenches we still had an unofficial armistice and were able to walk about in safety.
We are feeling rather tired now as we have been doing a lot of heavy fatigue work during the past few days and are leaving again for the reserve tomorrow morning. I had a chat with a German who used to work at Buchanan's in Holborn!! Naturally he spoke English well and said he was tired of this job and said he did not think the war would last very much longer. This experience has been the most practical demonstration I have seen of 'Peace on earth and goodwill towards men.' I understand that the infantry have not started firing again yet. This is merely an affair of the Brigade.
I am enclosing the King and Queen's Christmas card, also Princess Mary's and the divisional one which I shall be glad if you will look after for me. The Princess' gift consisted of a pipe, some baccy and cigarettes in a tin bearing her crest engraved on it and the names of our Allies. We have all received a gift of cocoa, milk, writing material and butter from our second Battalion.
2023 Anglia Research Services All Rights Reserved.
Anglia Research and Anglia Research Services are trading names of Anglia Research Services Limited, a company registered in England and Wales: no. 05405509
Marketing by Unity Online