1. Campaigning against anti-competitive practices
Since 2015 we have been examining the factors – and unpicking the myths – that lead local authorities to form exclusive relationships with heir hunters. In the course of our investigation, we have gathered ample evidence that these local monopolies encourage excessive fees and can sometimes even result in intestate estates being wrongly distributed.
We have produced two substantial reports on the subject, had questions raised in the House of Commons, and made representations to the Government Legal Department.
For most of England and Wales, Government policy is that when someone dies intestate, with no known next of kin, the estate should be referred to the Bona Vacantia Division "as soon as possible aſter death". However, some intestacies cannot be referred to – either because the value of the estate is below £500, or there is good reason to believe that relatives exist.
In these cases, we recommend that councils advertise intestacy details on their own websites, in a similar way to the unclaimed estates list. Alternatively, they can encourage competition and prevent abuse by referring each case to a number of genealogists concurrently.
We have devised a simple, practical model for this:
A better approach to local intestacies: the panel of three
A better approach to empty homes work on the panel of three.
When you scrap competition, who foots the bill?
 The practice of providing information to heir hunters on an exclusive basis has a number of unintended consequences. In this article we focus on the issue of excessive charges.
The case for competition: transparency leads to better research. When local authorities refer cases to heir hunters on an exclusive basis they may risk adversely affecting the quality of research conducted, as this article explains.
When councils pass heir hunters exclusive leads. In this article we look at yet another case that illustrates the problems caused when competition is circumvented.
Earlier research documents
Local authorities: why do they use heir hunters? In 2015 Anglia Research began sending requests to local authorities under the Freedom of Information Act 2000. We wanted to gain an understanding of their use of genealogical researchers to trace next of kin when the authority needed to conduct a public health funeral. This is a report on the responses we received by November 2016.
Myths about the Public Health Act and the duties of local authorities. Our research uncovered a minefield of misunderstandings about public health funerals and the related duties of local authorities. Here we look at both the myths and the facts.
Guidance on the use by local authorities of genealogical researchers. This guidance note for local authorities dealing with an intestate death within their boundaries provides background details and points for consideration by chief legal and finance officers.
Handling intestacies with no known kin – a code of practice for public authorities. This is a voluntary code of practice that authorities may wish to adopt in order to promote probity and transparency, minimise risk and avoid reputational damage.
---
2. Campaigning against double-charging
In 2016 we launched our campaign against double charging for birth, marriage and death certificates.
Double charging: unethical, unjustifiable and rife explains why we believe the practice is unlawful.
An update to our campaign against double charging reports on the successes we have had in raising awareness of the issue within the legal community.
Double charging: heir hunters continue to defend unethical practice analyses and refutes the flawed logic of an heir hunter who defends double charging.
Judge orders refund of unfair charges reports on a claim we brought against an heir hunter, which we hope signals the beginning of the end for double charging.
---
3. Helping victims of negligence and malpractice
At Anglia Research we will do whatever we can to help next of kin who fall prey to unscrupulous heir hunters – and will always report fraudulent practice to the relevant authorities.
A Better Approach to Empty Homes Work: the Panel of Three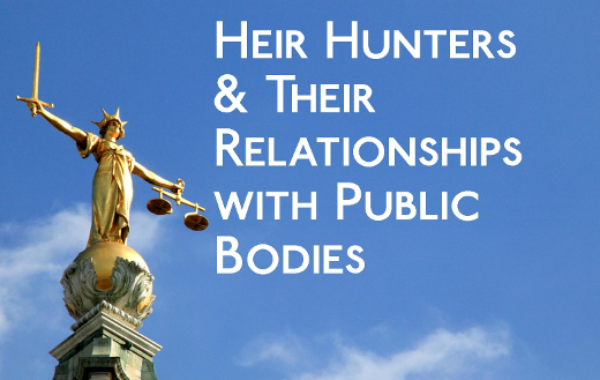 Here we present a practical model for establishing and managing a panel of three genealogical research firms that will support the local authority's goals while protecting next of kin from being overcharged or overlooked in cases that involve intestacy.
---
Assisting Local Authorities to Solve Empty Homes Cases
When it comes to empty homes work, local authorities require all relevant cases to be solved – not just those that may prove lucrative for an heir hunter.
In seeking to achieve this goal, many authorities form exclusive relationships with a tracing agent, who undertakes to handle every case, whatever its value. Unfortunately, as our research shows, these relationships are opaque, anti-competitive and tend to adversely affect any beneficiaries that the heir hunter might find.
However, there is a simple method that will inject both competition and a degree of transparency into the council/heir hunter relationship, as this briefing note explains.
A panel that works simultaneously in rotation and in parallel
Using due diligence (checking relevant qualifications, accreditation and professional experience) the council selects three research firms to whom it will refer work.
All three firms (A, B and C) understand that they will be obliged to take a referral if they are mandated to do so, but that every referral will be sent to all three firms simultaneously. When a new case comes up, the council sends a single email referral to their contact in each of the three companies. A single email is sent to all three.
In the case of empty homes work, the email should contain information about the last known owner's name, about the property, whether it is registered, when it was registered, whether council tax is being paid, or a council tax exemption applies (in which case the nature of the exemption should be stated). If council tax is not being paid, the email should record when payment ceased. Of course, if there are other relevant details of which the council officer is aware these should be included.
These are all details that council officers should already be aware of as a result of their preliminary investigation of the case.
On the first occasion that the council refers a case, Company A is mandated to research it, and this is made clear in the email. The second time a referral is made Company B is mandated to research it, and so on in rotation.
However, in every case, the other two companies receive the email referral as well. This means that they can assess the referral details and decide whether to research the case in competition with the mandated company. When they themselves are mandated they have to take the case. When they are not mandated they make a decision whether to pursue it, based on the details available, just as they do on any case advertised by the Bona Vacantia Division.
Transparency ensures that competition arises whenever it is needed
Researchers are alert to the clues that suggest that a case will result in a finder's fee.
If, for example, Company C is mandated to find the owner of a house on which council tax is being paid, or a current council tax exemption applies, Companies A and B will probably leave the case to A because the owner clearly knows of the asset.
If, however, the mandated company receives a referral for a property that is not registered and no council tax is being paid the non-mandated companies will almost certainly decide that the case is potentially lucrative and will investigate.
There are only four prerequisites to ensure that the panel works fairly for the council, the heir hunters and any beneficiaries of an intestacy that might be involved:
Cases are mandated in strict rotation (A, B, C, A, B, C …).
Every email referral makes it clear which of the three companies is mandated.
Every email referral is sent to all three companies simultaneously.
Every email referral contains information about house registration and council tax payments, as well as any other relevant details that the council is aware of.
Further considerations
Local authorities who follow this model may wish to investigate whether data protection regulations will allow them to monitor the performance of the companies they use. Although cases can vary significantly in complexity, if companies report back to the council on percentage fees charged to beneficiaries, the time taken to identify them and the specialist expertise employed, it becomes possible to evaluate whether the selected researchers represent good value for members of the public.
It is important to note that this model will work both for councils that refer all empty homes cases to an outside party, and also for those that maintain their own in-house tracing teams, referring only the most difficult and time consuming cases to an external research firm.
Find out more about our services
Why have we contacted you?
If we have contacted you it is because we believe you are entitled to a share of an inheritance. You may wish to take legal advice, but do get back to us as soon as you can.
Why choose Anglia Research?
Our accredited genealogists offer accessible, transparent, and confidential services that are regulated by the Professional Paralegal Register.
Beneficiaries FAQ
To find out more about us, click on the questions below. Please don't hesitate to contact us directly if there is anything else you would like to know.
Find your case manager
Find out more about our case managers, researchers, or associates who have contacted you directly, or are dealing with your case, here.
Code of conduct
At Anglia Research we have a commitment to integrity, quality and service. Our reputation is very important to us. Read more about our Code of Conduct here.
2022 Anglia Research Services All Rights Reserved.
Anglia Research and Anglia Research Services are trading names of Anglia Research Services Limited, a company registered in England and Wales: no. 05405509
Marketing by Unity Online