Our Client Testimonials
Anglia Research have given a highly effective and efficient service in tracing the many beneficiaries of a distant relative who left no will. I would not hesitate to recommend them.

— J. A. Wraith, Cheshire
---
"Thank you and your team for the interesting history and the cheque received and banked toward our Christmas shopping. It was an unexpected bonus. We have a small understanding of how difficult the job is of tracing families. Names get altered, records get destroyed so we admire what you are doing and thank you for the effort.
We hope you and the team have a very blessed Christmas and continue with assisting more unexpected surprises for others out there."
— John and Stella Heath
---
From the outset, the case was handled efficiently and with a minimum of fuss. Someone was always on hand to answer questions on the phone.

— J B Giggs
---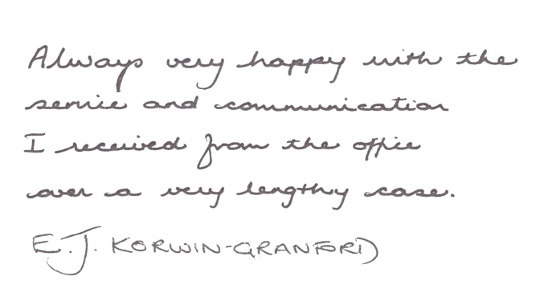 ---
"We would like to thank you for everything you have done for us regarding the estate of Eric Oliver Mangan. The estate has recently been settled and I have also been in contact with my birth mother who is now part of our lives – so thank you very much for your help."
— Brian Mangan
---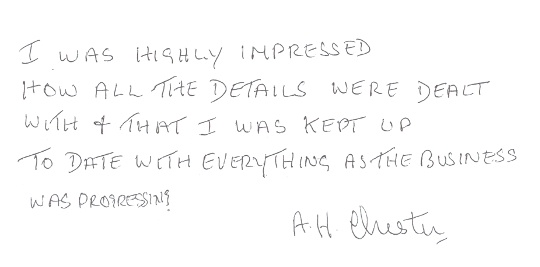 ---
"I thought I must write, very belatedly I am afraid, to thank you so much for all the work you did in getting the money I was due as a beneficiary of the estate of D– S–. It was a pleasure to deal with you and your company and I can only praise the way you have diligently handled this matter."

— Mrs M S, London
---
Processed from start to finish with the highest integrity, and quicker that the original timescale quoted.
— B Mays
---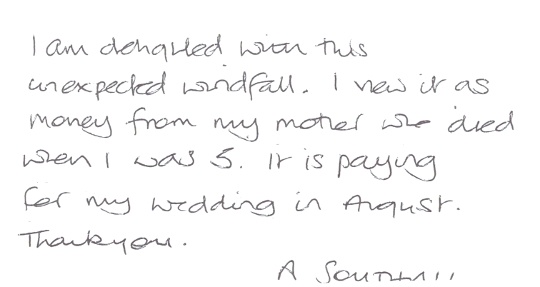 ---
"I have been working with Anglia Research on two separate cases where they have discovered that I and members of my family have been heirs to unclaimed money. I have found them extremely efficient, hard working and thorough.

They allocate a single research specialist to deal with each case and this leads to a very good working relationship, and the best possible outcome for all concerned. The detail that they are able to go to and their historical retrieval systems are most impressive, in the first case for an American relation and in the second case concerning long forgotten lands in Australia. I can highly recommend this company."

— David B. West Sussex
---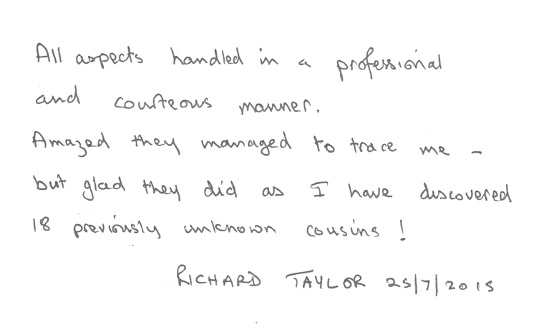 ---
"I must thank you for the very efficient way our case was handled. We were kept informed every step of the way, and knew exactly what was going on without any worry to ourselves. The whole case was excellently processed, with everyone completely satisfied with the result. Thank you again."
— Barbara Drake
---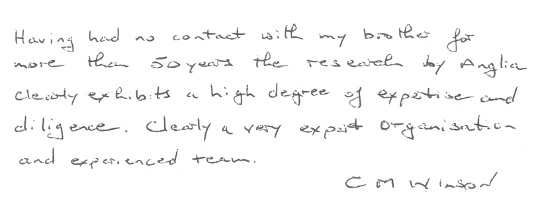 ---
"Excellent service all round, highly recommended."

— Mr Herbert Darling
---

---
"It was the presentation of your representative who helped me choose you. His approach to potential clients was friendly yet business-like, professional but at the same time on my level."
— Mrs Margaret Warner
---

---
"Any questions or concerns dealt with via phone calls were conducted in an efficient and pleasant manner. All correspondence was prompt and clear. The firm was a pleasure to have had dealings with. Many thanks."

— Mrs Thelma Drew
---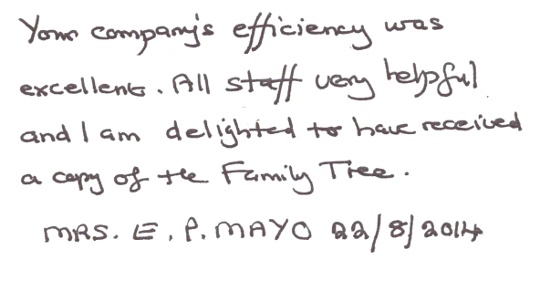 ---
"Professional to the letter."
— Mr Peter Leyland
---
Thank you so very much for the most interesting journey. A cousin I never knew existed has led to finding my two youngest cousins. We are going to meet after over 40 years. And I now know where my father was born and a little about his early years. It has been so rewarding to find out.

— Isla
---
"Many thanks for dealing with this matter in a sympathetic, kind, yet professional way. I am more than happy with the service provided by Anglia Research Services, and would have no hesitation in recommending them."
— Mrs Sheila Kent
---
My husband has asked me to email you to say he has received his cheque. He says a very big 'thank you' to you and your colleagues. He realises a lot of time and effort was put into tracking everyone connected to Irene. You all certainly earned your money.

— Name withheld by request.
---
"Thank you for the very efficient and professional manner in which you acted for me regarding my case. Thank you for the cheque received, couldn't have been handled better."
— Mrs Patricia Lang
---
I must say it was a very pleasant surprise to hear that I had a distant relative and I was entitled to some money. The way you handled it from beginning to end was very smooth and I would like to thank you.

— Mrs Julia Turner
---
"Just a big thank you for all your efforts."
— Mr John Ledger
---
Excellent service from day one when your researcher visited our family and told of the process from start to finish.

— Mrs Susan Peers
---
"A pleasant and unexpected surprise which was professionally dealt with."
— Mr Ian McFarlane
---
Thank you for your kind attention. This legacy has been a great surprise and I'm very grateful.

— Mrs Eileen Lomas
---
"Very pleased with the personal service that I received. Very down to earth, explained every detail clearly and answered any questions that I had."
— Vanessa Pank
---
I should like to thank you very much for the professional manner in which you have dealt with this business so efficiently. I am also appreciative of the helpful, friendly responses to my phone calls whenever I had a reason to seek further guidance or answers to my queries. I am delighted with, and grateful for the service I have received.

— Rita Routley
---
"An excellent service – well done."
— John Ryder
---
You are to be thanked for your work on my and my family's behalf. Without Anglia Research Services Ltd, we would have known nothing about Aunt Corrie's estate. Thank you.

— Mrs S E Pennington
---
"I would like to thank you on behalf of my delighted relatives for the successful outcome of our recent inheritance."
— Mrs Dorothy Pearson
---
Very nice and helpful, nothing was too much trouble, even if it was a chat. Thank you very much for all you have done for us.

— Michelle Thomis
---
"I would like to express my thanks for the most pleasant and efficient way this matter has been handled."
— Mr Brian Rose
---
Thank you all for your time and effort on my behalf. I appreciate all you have done.

— Mr Kevin Leishman
---
"The family would have known nothing of this inheritance but for Anglia Research. Thank you."
— Mrs Catherine Brown
---
Special thanks, the money will be well spent but the contact you gave me with my Uncle Joe is priceless.

— Christine Murphy
---
"Very pleased and grateful on work that has been done on my behalf. Many thanks."
— Mrs Gladys Oakley
---
"Many thanks for handling this in a sensitive manner."

— Ms Anna Wilson-Webster
---
"Thank you for the efficient way in which you have handled the estate."
— Mrs Valerie Addy
---
"Thank you very much to all of you for your help in this matter."

— Mr Phillip Dungworth
---
"I was very satisfied with all my contacts with you, and the fact that you managed to trace the beneficiaries of the estate in view of my limited current family knowledge."
— Mrs Rilka Hill
---
"I appreciate all the work you have done. Thank you."

— Mrs Margaret D'Costa
---
"Thank you for your service, it was most helpful."
— Mr Clifford Hopwood
---
To read testimonials from solicitors and other professional clients, please see our solicitors' testimonials page.
2023 Anglia Research Services All Rights Reserved.
Anglia Research and Anglia Research Services are trading names of Anglia Research Services Limited, a company registered in England and Wales: no. 05405509
Marketing by Unity Online