Another win at the National Paralegal Awards for Anglia Research
We were revealed as winners for the second consecutive year at the National Paralegal Awards at the Grand Hotel in Birmingham last month. Replicating our previous year's success, Anglia Research walked away with the much sought-after award for the Probate Research Organisation of the Year, beating off strong competition.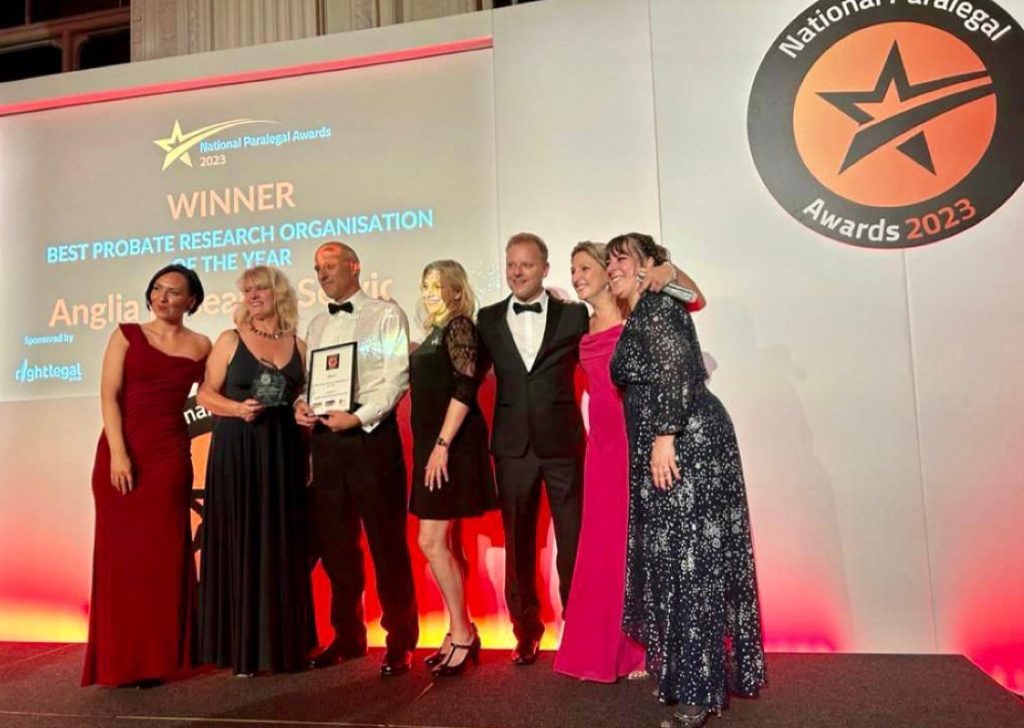 The National Paralegal Awards 2023, now in its fifth year, promotes the work and achievements of Paralegals in the UK across the legal sector and was this year hosted by CILEX.
Paralegals play an increasingly vital role in the delivery of legal services – the legal system would not operate as effectively without them – and these awards recognise their hard work and achievements. The National Paralegal Awards celebrate the best paralegals across the UK.
The night also saw our Regional Head Eileen Lavelle (nee Butcher) receive a highly commended award for the category of Best Probate Research Paralegal.
Probate research is considered a crucial part of the legal sector, offering specialist services including locating missing beneficiaries, establishing next of kin in cases where there is no valid will, and other critical services.
The National Paralegal Awards, organised by the Professional Paralegal Register (the voluntary regulator for Paralegals), champions and rewards the work undertaken by paralegals across all sectors in the UK.
We are absolutely delighted to have won the main company award for the second consecutive year. This award is a testament to the fine work that our team carry out on a daily basis. We are immensely proud to receive further external validation that we are continuing the right path in both how we operate but also with the staff development opportunities that we offer. Having accredited staff is the cornerstone of our business.

– Executive Director, Philip Turvey
Founded in Suffolk back in 1979 and based in Museum Street in Ipswich, we employ over forty members of staff, the majority in and around the Ipswich area, offering specialist services to the legal profession, the public sector, and individual beneficiaries.
You can read more about what the press has to say here.
2023 Anglia Research Services All Rights Reserved.
Anglia Research and Anglia Research Services are trading names of Anglia Research Services Limited, a company registered in England and Wales: no. 05405509
Marketing by Unity Online