Public Health Funerals: next of kin left vulnerable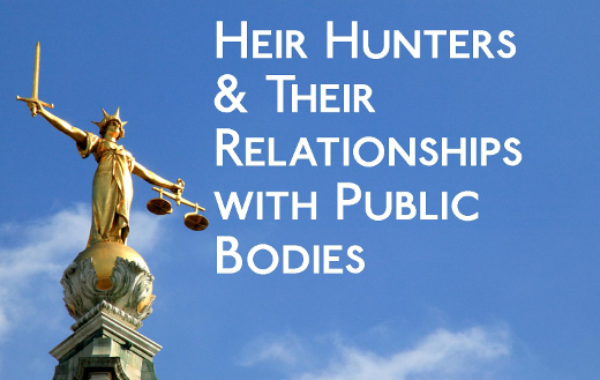 Updated government guidance for councils on Public Health Funerals addresses some problems with heir hunters. In this article, we argue that the guidance does not go far enough, but that there are simple ways that councils can improve matters themselves right now.
---
Councils should report people dying intestate with no known next of kin to the Bona Vacantia division within 5 days. This guidance has not been changed. It allows several firms to research simultaneously to locate heirs quickly, who can then help to arrange the funeral and claim the estate.
The new guidance confirms that councils are not required to trace next of kin, but that it can be good practice in certain circumstances. Councils may use professional genealogists, or heir hunters, to find missing relatives. The new rules emphasise the importance of due diligence in these cases.
So far so good, but problems remain.
Remaining shortcomings
The recommended checks on heir hunter firms are "to help ensure satisfaction with the provider". The satisfaction of the local authority is important, but what about the satisfaction of the next of kin? The objectives of local authorities are not the same as those of bereaved families.
Problems arise because councils are giving out exclusive deals to heir hunter firms. These often mean eye-watering fees for next of kin, which they have little choice but to pay. Identification errors from such arrangements can cause years of legal misery and conflict.
The guidelines still contain nothing to prevent these local monopolies. Neither are there any other measures to protect the financial interests of bereaved families who are not aware that their relative has died.
Problems becoming widespread
It was once unusual for local authorities to use genealogists, or heir hunters, to find next of kin. It is now quite common. We made Freedom of Information (FOI) requests to 325 councils in England and Wales in March 2019. Of those who responded 57% (185) admitted to an "arrangement" with an heir hunter company.
These councils might have investigated the genealogist or heir hunter firm before handing them a deal. They are giving details of deceased and intestate people to them after all. Yet we found that only 4% (7 councils) had a written contract with them. The vast majority worked informally and without scrutiny.
When a council gives somebody's details to an heir hunter the next of kin may be charged a finder's fee for access to their inheritance. When this is done exclusively the heir hunter can charge whatever they like.
We think that is wrong.
Scrutiny is not enough
Due diligence by councils is certainly desirable. But scrutiny alone does not prevent firms with exclusive access charging fees of 15%, 25% or even 40%, of the value of an estate.
Compare this with the average fee of 5% (or often less) when a property is involved and several genealogy firms work on a case. This is what happens when cases are put on the Government Legal Department's Bona Vacantia division unclaimed estates website.
Families are paying vast sums in unnecessary fees. All because councils are setting up monopolies, we assume without realising the effects.
Next of kin rarely complain. If only one company can contact them they do not realise there is an alternative. Sadly, heir hunters often present themselves as acting on behalf of a council. This gives them an air of authority which heirs seldom question.
This is not the only problem caused by only one set of researchers working on a case. When companies are not checking each others' work mistakes happen much more often.
Such errors mean estates sometimes go to the wrong relatives and sometimes people who are not even related. The rightful heirs might not even find out that a relative has died and a funeral held. Wider access ensures that all heirs are correctly identified, avoiding family upset and even court proceedings later.
Heir hunters make spurious claims
Heir hunters often claim that exclusive deals with councils lead to quicker results. In fact several firms working simultaneously is the fastest way to track down relatives. Posting a deceased's case on the Bona Vacantia website is also the most reliable way to ensure that relatives are not missed.
Heir hunters also suggest to councils that exclusive arrangements will save them money. Again this is not true as it is easy and free to refer a case to the Bona Vacantia division. Details of the deceased person are published very quickly by the Bona Vacantia Division. Funeral costs are the first to be paid from an estate in all circumstances so there is no benefit here either.
What councils could do
Many local authorities rightly point out that the guidance is not clear enough. Two thirds of the councils who replied to our FOI requests said they would welcome more explicit guidance or regulation. We agree.
For now though, councils could take action themselves to give next of kin some protection.
Already there are 200 councils who list cases on their own websites, so that several probate genealogy companies can solve them together. But often information needs to be fuller and posting needs to be done more quickly. And definitely not after giving it directly to a favoured heir hunter!
Another method is for councils to select a panel of three or more reputable genealogy firms to inform at the same time so that they can work simultaneously. More councils are also beginning to use this approach.
Both these measures increase the chance of speedy identification of as many relatives as possible, whether or not there is an inheritance. They also ensure that they are not then subjected to unfair and excessive fees to claim their estates. It also ensures that if there is an inheritance, it will be given to the relatives who are entitled to it.
2022 Anglia Research Services All Rights Reserved.
Anglia Research and Anglia Research Services are trading names of Anglia Research Services Limited, a company registered in England and Wales: no. 05405509
Marketing by Unity Online