Row, row, row your boat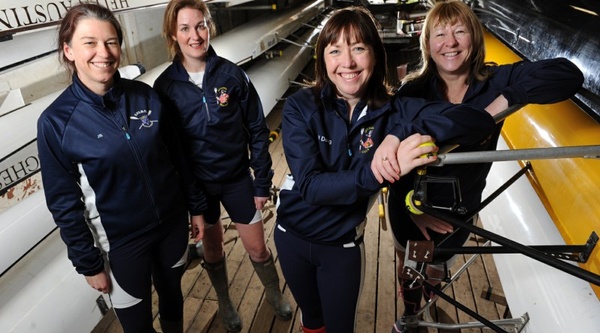 At Anglia Research we admire tenacity and determination, which is why we are sponsoring Yorkshire Rows, a team of four intrepid women who will set off this December on a 3,000 mile journey across the Atlantic from La Gomera in the Canaries to Antigua. In this interview, team member Frances Davies (pictured left, above) explains why she's taking part in the Talisker Whisky Challenge, and how the team plans to cross the ocean with only their oars to propel them.
---
On 15 December Yorkshire Rows will embark on an incredible journey: they'll see turtles and flying fish, phosphorescent seas and mid-Atlantic sunrises, but they'll also face extreme physical discomfort and some of nature's scariest challenges.
Thirty-foot waves? Sharks? Why put yourself through it?
"We're aiming to raise money for the Yorkshire Air Ambulance and Maggie's Cancer Caring Centre – that's a strong motivator," explains Frances, a solicitor from York. But there are other factors.
Janette Benaddi, Helen Butters, Niki Doeg and Frances Davies are all working women, all mothers, and all in their forties and fifties. If they make it to Antigua, they'll be the oldest female crew to complete this herculean challenge.
"When people push themselves to their limits, they also push the boundaries of what people think is possible," says Frances. "We're not athletes. We're working mums and we've only been rowing for three years. We hope to show that ordinary women like us can do something extraordinary.
"For me, personally, there's also just the simple desire to be out in the wild, having an adventure."
As navigator, Frances will have GPS to help her, but if that fails she'll fall back on her training in astro-navigation and steer by the stars. "We're planning to head south-west towards the equator and arc back towards the north. That way we will pick up the trade winds."
It's a route that many teams follow. Others head west, straight across the Atlantic. As a result, competitors are widely scattered and, with only one support yacht to keep an eye on 29 teams, Yorkshire Rows will face the worst the sea can throw at them entirely on their own.
"While it's not easy to prepare yourself physically, at least it's straightforward. You just have to do the training and build up your fitness." says Frances.
"As far as the psychological aspect is concerned, we've taken advice from a sports psychologist. We've talked through just about every aspect of this and our main focus will be to look after each other. Unlike solo rowers, we can harness the power of the group. Each of us knows there are three people looking after her; we don't have to worry about ourselves, our focus is on one another."
Their preparations have included courses in astro-navigation, first aid at sea, sea survival and VHF radio.
"Part of the sea survival course involved a simulation in a swimming pool," explains Frances. "We were running through the procedure for abandoning ship – something we hope we'll never have to do. You're in the dark, with flashing lights and loud noises and people splashing you. We all had to find one another and form a human chain in the water. Afterwards we thought it would have made a great children's party!"
Their best learning experience came last May, when they pitted themselves against the North Sea – the busiest shipping channel in the world – becoming the first all-woman rowing team to make the crossing.
"We learnt some invaluable lessons from that," says Frances, "getting familiar with using the electronic equipment and experiencing the importance of routine.
"On the Atlantic, we'll be following a strict rota: two hours rowing and two hours off around the clock. We'll row in pairs and swap rowing partners every couple of days to ensure that we remain a team of four, rather than falling into two separate teams."
Given such a gruelling work regime, food will play an important role. The rules of the Talisker Whisky Challenge stipulate that teams must make the crossing unaided, carrying all their supplies with them. That's means that Yorkshire Rows need to carry 60 days' worth of rations, and given that each team member should consume 6,500 calories a day, that adds up to a lot of provisions.
"Mainly we'll be eating dehydrated expedition foods, protein shakes and lots of snacks," says Frances. "We've all become addicted to biltong."
But where are they going to store all this food in a boat that's a mere 7 metres by 1.5 metres?
"Our boat, Rose, was designed by Charlie Pitcher of Rannoch Adventure. He has rowed across the Atlantic twice himself, so the design is very much based on his own experience. There is a great deal of storage space in the hull, where things are safe from being swept overboard. There are two cabins, one at the stern and a smaller one at the bows, and so long as the hatches on these are closed Rose is entirely self-righting. She's built for safety, but she's very light so she's also built for speed."
Yorkshire Rows hope to raise £200,000, to split between their two chosen charities, the Yorkshire Air Ambulance and Maggie's Cancer Caring Centre. You can donate through the Yorkshire Rows website and, if you want, choose a song to lift their spirits when the going gets tough.
Once the race has started, you can follow the team's progress on Yellowbrick. Rose carries a tracker which will post their position every four hours, along with a leader board that will show their position in the race.
2022 Anglia Research Services All Rights Served
Anglia Research and Anglia Research Services are trading names of Anglia Research Services Limited, a company registered in England and Wales: no. 05405509
Marketing by Unity Online