The face of the father he never knew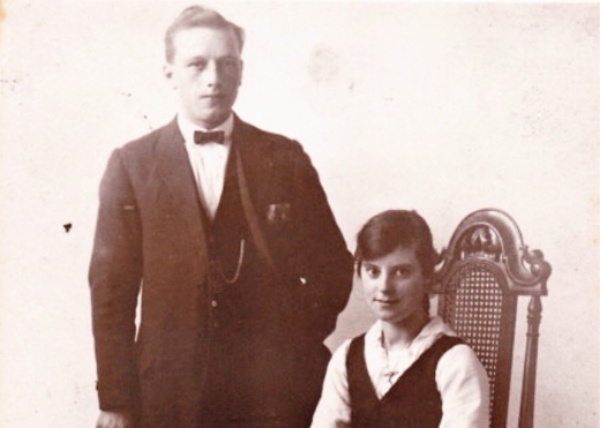 Thanks to the work of Anglia Research's Sam Watkin, a great grandfather living in Australia finally has a photograph of the father he never knew. In this article, Sam explains how she came to trace the family of 85-year-old Bert Palin.
---
I love the problem-solving aspect of my work and the fact that tracing someone's family tree can result in tangible benefits: whether it be an inheritance or contact with long-lost relatives.
Although we never pass someone's details to another relative unless they specifically request it, bringing families back together is one of the most rewarding aspects of being a probate genealogist.
In fact, even when close relatives have died, contact with more distant relatives can still be important. They can fill in gaps in family history, share their own store of old family photographs, and as a result of family resemblances, they can be a 'familiar face'.
Consequently, when I came across the story of Bert Palin in my local newspaper, the St Helens Star, I couldn't resist lending a hand. Bert's granddaughter Megan had posted a request for help tracking down Bert's relatives.
Bert, a former armourer in the Royal Navy, never knew his dad, who passed away suddenly in St Helens before Bert was born in 1931.
In the 1960s Bert and his wife Mary emigrated to Sydney, Australia. Now, with three children, seven grandchildren and one great-grandson, he wanted to find the missing piece of his personal history by learning more about his father.
When I came across the story, I knew that Anglia Research could help and I emailed Megan offering our services for free.
Megan told me: "My grandmother's health has been in decline in recent years and Bert visits her at a nursing home twice a day.
"They go through photos of family and friends and talk about times past. But the one person Bert has never been able to talk very much about is his own father, Bertie Palin, born 1899 in Prescot. He doesn't even know if his father was aware his mother was pregnant before he died.
He has talked for years about how it was his final wish to find some photos of his father so he could put a face to the person he has wondered about all of his life. He wants to find the final piece of the puzzle so he knows, as he says, 'who I'm looking for when I arrive in heaven or wherever I end up'.
Putting a face to the name
From the information in the original article, I was able to confirm that Bert's dad, Bertie, was one of four children. One of his sisters, Hilda, died as a spinster while a patient in Rainhill Hospital in 1939. His other two sisters went on to marry and have children. One, Ada, was quite difficult to track down. Not only had she moved out of area to Blackpool but her date of birth and age varies on both her birth and marriage certificates and on the 1939 Register.
Unfortunately, the sisters' children – Bert's cousins – have since passed away. However, I managed to trace the sisters' grandchildren and wrote to them. One of them, Ada's grandson John, got in touch.
Although John didn't have any information about Bertie, he was able to tell us all about Bert's aunt Ada. I included the copy of the original newspaper article in my letter to him, and he couldn't believe the family resemblance.
Megan is now in touch with John and other members of the family. She told me: "I have spoken at length with John and we now have a picture of Bertie and his wife Eva. John was able to furnish us with some more details about our family, his grandmother Ada, and Bertie's other sister Hilda. He sent me pictures of Ada's daughter and the family resemblance is striking.
"We've been thrilled to bits by Anglia Research's work and it's been great to share these precious memories with my grandad Bert."
2023 Anglia Research Services All Rights Reserved.
Anglia Research and Anglia Research Services are trading names of Anglia Research Services Limited, a company registered in England and Wales: no. 05405509
Marketing by Unity Online