Waterloo – not a song, not a station, but a chance to commemorate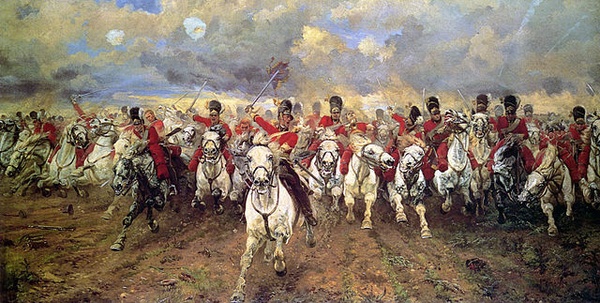 Sunday, 18 June 1815: on a low ridge, south of the village of Waterloo, the Duke of Wellington's 67,000-strong coalition army faced Napoleon's Armée du Nord – 69,000 infantry, cavalry and artillery men. If you factor in the Prussians, who arrived to support the coalition later that day, the present-day descendants of the soldiers who fought at Waterloo probably number between one and two million people. Now the search is on to find them.
---
Waterloo was a terrible, bloody, but decisive victory that drew a line under more than 20 years of war in Europe and ushered in half a century of peace. This year marks the battle's 200th anniversary.
One of the events organised to commemorate it will be a call to arms for family historians across the UK.
Waterloo 200, the group coordinating the anniversary, has announced that anyone in the UK or abroad who can show their family connection to a soldier who served at Waterloo will be given the chance to apply for tickets to attend a memorial service at St Paul's Cathedral on 18th June 2015.
"Over 2,500 people will be at this historic event, of whom the organisers hope that many will be descendants, particularly of those who were from the rank and file."
Fought with sword, cannon and musket, and allegedly won by Wellington's infantry squares, Waterloo was the culmination of the Napoleonic Wars, the Great War of the 18th century. Nothing could match its horror until 1914.
On the Waterloo200 website, descendants are already adding their ancestors' stories. From the tale of James Thornton, Wellington's personal cook, who "boasted that he buried Lord Henry Paget's leg" to the last, poignant letter of Major Arthur Rowley Heyland, it's a vibrant mixture of genealogy, military history and family tradition passed down over 200 years.
What unites almost every story is the Waterloo medal, either noted as lost or still in the family's possession. This is because the British Government issued a military medal to every man, of every rank, who served at Ligny (16 June), Quatre Bras (16 June) or Waterloo (18 June). Even the families of soldiers killed in action received the Waterloo medal. Most significantly, for descendants, it was the first military metal to be engraved with the recipient's name.
As a result, the Waterloo Medal Roll of 1815 is the primary route to establishing an ancestor's presence at the battle. You can search the Roll at findmypast.co.uk, which is working in partnership with Waterloo 200 to help descendants discover their Waterloo heritage.
2022 Anglia Research Services All Rights Served
Anglia Research and Anglia Research Services are trading names of Anglia Research Services Limited, a company registered in England and Wales: no. 05405509
Marketing by Unity Online