Anglia Research recognised in Parliamentary Review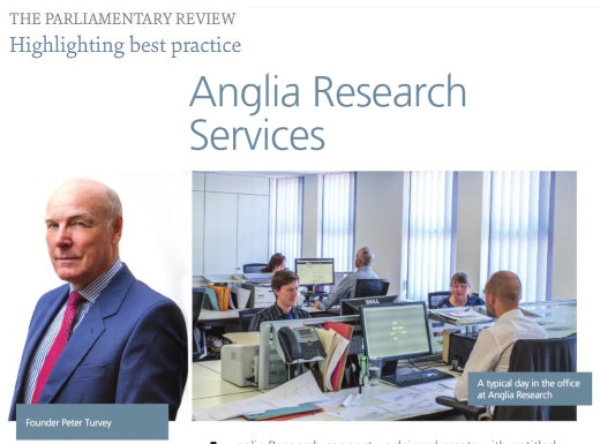 We are proud to announce that Anglia Research features in this year's Parliamentary Review, as a "best practice representative" for 2019.
---
Billed as "an indispensable guide to industry best practice", The Parliamentary Review demonstrates how sector leaders have responded to challenges in the political and economic environment.
"We were delighted to be invited to participate," says Anglia Research's MD Peter Turvey.
"Given the challenges that our industry has faced in recent years, it was good to have an opportunity to explain Anglia Research's ethos and how we arrived at it – to spell out why, in an unregulated environment with such low barriers to entry, it's so important to focus on independent regulation and meaningful accreditation, to challenge wrongly distributed estates in the courts and to campaign for sector-wide reform."
Executive director Philip Turvey comments: "Our inclusion in The Parliamentary Review is a great testament to the continued hard work of our employees, and endorses our culture and commitment to transparency."
You can read the article here.
2022 Anglia Research Services All Rights Reserved.
Anglia Research and Anglia Research Services are trading names of Anglia Research Services Limited, a company registered in England and Wales: no. 05405509
Marketing by Unity Online